Find the Specials to Save $60
When You Order $200 and More


THE ACCESSORIES
SAVE 20%. USE COUPON: BF20

Make holiday gifts into a thoughtful gesture

Shop the Gifts as soon as
Possible to Avoid Logistics Delays during Holidays

Free Shipping
Enjoy free shipping on all orders (except separate accessories) within the USA. Fast shipping - all orders ship within 24 hours!
100 Nights Trial
You have 100 nights to fall in love with the Zamat pillow. If it's not working for you, we'll issue a full refund.
10-Year Warranty
We ONLY use premium materials. For peace of mind we offer 10-year warranty on all our products.

Gifts to Brighten Their Day


The Holiday Sales
Timeline

01
Nov. 10th - Nov. 19th
20% OFF
Mystery Box for $39 ONLY
02
Nov. 20th - Nov. 27th
Buy $200 Save $60
& Pillow Giveaway
03
Dec. 1st - Dec 25th
04
Nov. 10th - Nov. 23rd
Stop Searching for Holiday Discounts
Join Today for Exclusive Holiday Promotion Alerts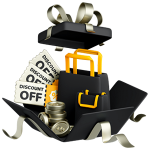 About the Black Friday and Cyber Monday Sale:
When Is the Black Friday Event Period?
The event runs from Nov 17th to Nov 24th.
How Are the First 50 Defined?
The first 50 purchasers from the start of the Black Friday promotion, determined by email.
How Do I Claim the Free Pillow if I'm One of the First 50 Buyers?
If you're among the first 50 buyers, you will receive a notification via email. To claim your free pillow, please follow the instructions provided in the freebie claiming process.
On Which Products Can I Use the $200-$60 Coupon?
The $200-$60 coupon can be applied to the following products: Butterfly Button Shaped Pillow, Butterfly Shaped Pillow, Original Cervical Pillow, Hyper Shredded Pillow and their associated accessories.
*ZAMATHOME reserves the right to modify, adjust, or terminate this campaign at its discretion, and any changes, adjustments, or terminations will be announced on the online sales platform. ZAMATHOME also reserves the right to refuse or cancel any orders that violate the terms and conditions of this campaign. ZAMATHOME reserves all the rights of interpretation of this event